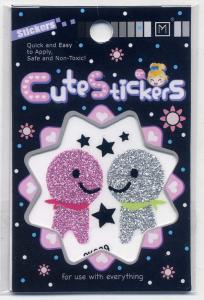 Products Information
Product Information
Product Name: Glitter Sticker
Model/Item No.: GL07-1
Country of Origin: Guangzhou,Guangdong,China(mainland)
Brand: M
Product Specifications/Features:
Size: 5X6 cm
Detailed Product Description
Glitter Sticker:
1. You may paste the stickers in the wall, handset, MP3, computer and so on. You can fully
choose the place which you want to paste and also fit for promotion
2. They can increase the brightness of your handset, MP3 and so on.
3. Size and design made according to buyers' requests
4. Only qualified materials are used. So, it is safe and non-toxic.
Without any concerns, adults, old citizens and children can decorate their belongings.
5. It is good item as present.
Trade Information :
Packing: 1 pc/backing card/OPP bag; 3500 pcs/CTN
Gross Weight: 18kgs/CTN
Delivery Way - Delivery Port: FOB Guangzhou
Sales Method: Export, Manufacture
Payment Term: T/T, L/C at Sight